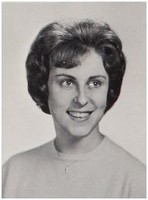 Lucinda "Cindy" Braun Peterson
Lucinda "Cindy" Marynia Peterson, 70, of Red Wing, died Wednesday, November 19, 2014 at her home. She was born August 3, 1944 in Alexandria, Virginia, to Eleanor (Johnson) and Edwin Braun. She grew up in St. Louis Park, Minnesota and graduated from St. Louis Park High School in 1962. In June of 1964, she married Dean Peterson. The couple celebrated their 50th wedding anniversary this past June with family and friends on the Avalon in Stillwater. The couple lived in Minneapolis for four years, then moved to Illinois for 36 years and lastly, to Red Wing where they retired. Cindy obtained a certificate in library science and worked in three elementary schools for eight years. Cindy was very active in her local PTA and served as president for numerous positions. She then began working at the library and security department at Northrup-Grumman in Rolling Meadows, IL, where she worked for 18 years. Cindy had a passion for flowers, gourmet cooking, traveling and she adored her family and friends.
Cindy is survived by her husband, Dean; one daughter, Laura Daley of Red Wing; one son, John Peterson of Stacey; grandchildren, Sarah and Hannah Daley of Red Wing; one sister, Janet (Rodney) Johnson of Red Wing; brothers-in-law, Donald Peterson of Corona, CA, and Kevin (Julie) Peterson of Ham Lake; and numerous nieces and nephews, Aaron Johnson of Arlington, VA, Kimberly Johnson of Hoffman Estates, IL and Matthew Johnson of Denver, CO David Peterson of White Bear Lake, and Steven Peterson of Blaine.
Memorial service will be 1 p.m. Monday, November 24, 2014 at the New River Assembly of God Church, with Reverend Tom Johnson officiating. Burial will be at Oakwood Cemetery. Visitation will be one hour prior to the service at the church. Online condolences may be sent to the family at www.mahnfamilyfuneralhome.com.