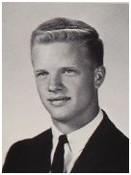 ROBERT WILLIAM BURMASTER, M.D.
Robert W. Burmaster (Dr. Bob) passed from our lives on October 28, 2022 after a lengthy illness. Born March 13th, 1944 to Robert Oscar Burmaster and Rosella Evangeline (Haug) Burmaster in Deming, New Mexico, Bob graduated from St. Louis Park High School (MN), Gustavus Adolphus College and the University of Minnesota Medical School. Bob is preceded in death by his parents and a sister, Ann Elizabeth (Burmaster) Hummell.
Bob is survived by his wife, Connie Driscoll Burmaster of Fort Myers, Fl and his children, Robert Joseph Burmaster, and his wife Jessica, Dr. Kellee (Burmaster) Ott, and his step-daughter, Erin Carlson Shaehrer; seven grandchildren, William, Carter, Isabelle, Casey, Ryan, Tommy and Justyn.
He is also survived by his brothers, Dr. Richard Burmaster of Plymouth, MN and John H. Burmaster of North Oaks, MN, and many relatives.
Robert began his medical career with St. Cloud (MN) Internists and, after a brief time in Ventura, California, settled in Edina, MN and joined Specialists in Internal Medicine and was associated with the (then) Fairview Hospital in Edina, MN. Bob became interested in the business of medical practice, took Business Administration Courses at The Carlson School of Management in Minneapolis and The Wharton School of Business in Philadelphia, PA and eventually left medical practice to found and become President and CEO of Fairview Physician Associates, an HMO, in Edina. He held that position until his retirement.
Bob settled in Fort Myers, FL where he met and married Connie Driscoll and together they enjoyed life golfing, fishing, bicycling, and traveling