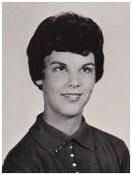 CATHLEEN CARPENTER (TURNER)
In Memoriam
Cathie Carpenter (Turner) passed away on May 16, 2022. She was on a cross country trip with her husband, Bill, in their motorhome and had stopped in Texas so that Cathie could judge Golden Retrievers. That night she passed in her sleep of an undiagnosed heart condition.
Cathie was born December 22, 1944, in Glendale, California to Marshal and Dorothy Carpenter while her father was in the Marines. She is survived by her husband, William Turner, sister, Christine Carpenter, son, Richard Turner, niece Emily Carpenter, and granddaughter Montgomery Turner. She was predeceased by her parents, her brother, Scott Carpenter, and her son, James Turner.
After WWII her family moved to Minnesota, and Cathie graduated from St. Louis Park High School in 1962. After graduating from the University of Minnesota, Cathie moved to southern California where she earned an MBA from Pepperdine University, married William Turner, and raised two sons.
After a successful career as an advertising executive and being active in politics, Cathie turned to the sport of pure breed dogs and founded the Sunbeam Goldens Kennel. Over 30 plus years she became a successful and respected breeder of Golden Retrievers, an AKC judge, and produced over 60 AKC Champions. Cathie remained very active in the pure breed dog sport until her death and received a special tribute at the Palm Springs Specialty Show on January 5th ,2023: "Cathie was an inspiration to the dog world, and shared her knowledge and uncompromising passion to ensure that the Golden Retriever breed would thrive into the future."
Cathie's family has helped to establish a research program to eradicate hemangiosarcoma, a type of cancer that is very deadly to Golden Retrievers. If anyone would like to contribute, they can search on "Morris Animal Foundation which receives funding from Cathie Turner."
Or click on the direct link below:
The Cathie Turner Sunbeam Fund for Hemangiosarcoma Research