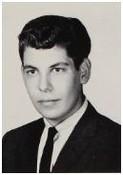 REMEMBERING ALLAN FINGERHUT: THE MAN WHO BROUGHT YOU FIRST AVENUE
By David Roth
The Fingerhut family is inviting everyone to attend Allan's memorial service. They will be held at Lakewood Cemetery, Monday October 19 at 11:00 AM CST. The family has provided a zoom link if you'd like to attend: LINK
Allan Fingerhut passed away on Monday October 12, 2020 surrounded by his family. Allan's life was centered on family, as well as art, music and creativity.
The Fingerhut name is well known in Minnesota, and as a young man, Allan chose not to enter the family business of catalog sales. Instead, he dreamed of creating a space in the Twin Cities that could rival Bill Graham's Fillmore clubs on both coasts. In 1970 Allan was instrumental in establishing The Depot, and while it was open, some of the biggest acts in music played there: Tina Turner, Frank Zappa, BB King, and Rod Stewart to name a few.
Music venues are a hard business and in 1971, The Depot closed. Allan leased the space to a discotheque franchise called, American Avents, who opened Uncle Sam's in the Depot space. Allan went on to pursue another love of his – art. At its height The Fingerhut Gallery had five locations around the country, and sold lithographs to over a hundred independent galleries.
In the late 1970s, when American Avents left Minnesota, Allan came back to the club. He began a working relationship with Stephen McClellan and promoted him to general manager.
When reached for comment, Stephen had this to say about Allan, and the club:
I, having worked the club in the late 70's and early 80's, when American Avents dumped the franchise and left it in a very perilous financial state found ALL of Allan's advisers (present day ownership included) putting huge pressure on him to close the doors. Despite those efforts, Allan did NOT succumb to the pressure and allowed us to keep the place open during some VERY lean years. That single decision on his part allows me to state, with NO uncertainty, Allan Fingerhut can be named THE ONE PERSON to be given credit for the club being open to this day.
–Stephen McClellan
This story is made possible by the Arts and Cultural Heritage Fund and the citizens of Minnesota.
________________________________________________________________________
Allan Fingerhut's vision for The Depot is captured in an impressive collection of photos shot by photographer Mike Barich in the early 1970s.
"That big, round, black building at 701 North 1st Avenue in downtown Minneapolis contains more legends and myths than Minneapolis probably deserves. The early history of the club is rife with change, contributing to its mercurial feel. For some people, it's a symbol of musical expression; for others an adult Disneyland." Continue a tour through the history of the legendary club now known as First Avenue.
https://www.tptoriginals.org/remembering-allan-fingerhut-the-man-who-brought-you-first-avenue/