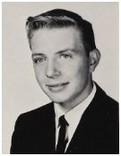 Allen Zehlke
FEB 27, 1944-NOV 08, 2022
Deceased Classmate: Allen Zehlke
Date Of Birth: 02-27-1944
Date Deceased: 11-8-2022
Age at Death: 78
Classmate City: Edina
Classmate State: MN
Classmate Country: USA
Was a Veteran: Yes
Survived By: Wife Sirapi and son Tony. Also grandchildren

Al and I grew up next door to each other and also went to senior prom together. Last I saw him was at the 50 year reunion and we had a blast. He was a very special guy. Just talked to his wife yesterday and she's having a really hard time. They also lost their son Jimmy two years ago so this is rough. I have so many memories growing up with him and his family. So sad.
Mary Williams McElmurry