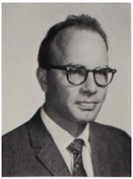 David Merle Litsey
Litsey, David Merle Age 93, of St. Louis Park. David died peacefully in hospice on December 31, 2021. He was a life-long educator with a zest for life who left a powerful impact on all who knew him. He was a devoted and loving husband, father, grandfather, great-grandfather, brother, uncle, friend, and companion.
Born in Minneapolis on March 13, 1928, David grew up in humble surroundings in Churdan and Cedar Rapids, Iowa. He was raised mainly by his mother, Emma, after she and her husband divorced when David was nine years old. Eventually, they settled in a small house in south Minneapolis in a modest neighborhood where David made lifelong friends. After graduating from Roosevelt High School in 1945 - where he was the starting halfback on the team that won the Twin City football championship - David joined the Navy. He was stationed in San Diego and the Bay Area of northern California. He studied electronics and spent countless hours reading when not on duty.
After his discharge from the Navy in 1948, David attended Dartmouth College, where he studied economics and literature and was influenced by readings from poet and faculty-member Robert Frost. David returned to Minneapolis at the end of his freshman year to be with and support his mother. He completed his studies at the University of Minnesota, earning a B.S. (Phi Beta Kappa) in 1952 and later a Masters in Education. While still in school, David met the love of his life, Meredith ("Merry") Ruud, at a dance at the Prom Ballroom in St. Paul. They were married on March 30, 1951 and settled in St. Louis Park, raising three sons. They were inseparable companions for 62 years.
David spent most of his teaching career at St. Louis Park High School. He taught advanced literature and writing classes and served as chair of the English Department. He was fortunate to teach during a time when support for public education was strong, and developed an innovative curriculum working with outstanding colleagues, many of whom became close friends. His colleagues recognized him for his "humor, intelligence, loyal friendship, and wit," and the Department was recognized nationally by the National Council of Teachers of English and the University of Minnesota, especially for its writing program. The students were special, too. He considered it a "teacher's joy" to work with enthusiastic students, many of whom became noted leaders and scholars in their own rite, often crediting David's inspired teaching. David was recognized with a John Hay Fellowship in 1965-66, which gave him the opportunity to spend a year in graduate school as an honorary fellow at Yale University. David, Merry and the boys treasured that year, using it as an opportunity to travel throughout New England and visit New York City, including attending Yankee games and the World's Fair.
After retiring from teaching, David and Merry started a successful tax and financial planning business. They operated the business for more than seven years, often serving former colleagues and their friends. During this time, they never gave up their passion for learning. They took nearly 80 educational trips to Elderhostel (Road Scholar) programs around the country and abroad, from Honolulu to St. Petersburg. On these trips, they often were joined by members of Merry's family. They also traveled with their Scamp trailer to state and national parks and to visit friends and family.
David never ceased to explore and create. He had an insatiable curiosity and was a life-long lover of literature, music, and theater. He was an excellent writer, authoring countless poems until the very end of his life. He studied languages (Spanish and Russian); took up the piano; became a talented water-color painter and photographer; acted in community theater; enjoyed fishing and boating at the family cabins; played golf and poker with friends; explored the wilderness on hiking and canoe trips; was an early adopter of the latest technologies; had a knack for stock trading; solved the daily crossword; enjoyed gardening and family pets; supported numerous social causes; regularly attended performances at the Minnesota Orchestra and the Guthrie; and avidly rooted for the Gophers, Twins, and Vikings (who frequently broke his heart).
In the last years of their lives, David and Merry moved into Parkshore, a senior community in St. Louis Park, where they made many new friends. David became an active participant in the poetry group and helped form other groups that focused on the concerns of seniors. Sadly, David lost Merry to a stroke in February 2014. But David later found a caring companion at Parkshore in Shelby Andress, who loved and supported him along with her family over the last years of his life.
Most of all, David adored his children and grandchildren. He was proud and supportive of everything they did. He took a keen interest in their lives and was always the teacher. He was uncommonly joyful, generous, and caring. In the last year-and-a-half of his life, David was blessed with a great-grandchild, Caleb David Litsey, who became his pride and joy. David's legacy lives on in each of them. He will be sorely missed, but often remembered.
David is preceded in death by his parents, Fred and Emma Litsey, and his brother Lionel Litsey and Lionel's family. He is survived by his children Craig (Maryanna), Calvin (Christine), and Bryan (Lisa) Litsey; his grandchildren Sean (fiancée Alexis), Alex (Meghan), Cambria (fiancé Patrick), and Joshua Litsey; his great-grandchild Caleb; nieces, nephews, in-laws, devoted friends, and companion Shelby Andress. A celebration of David's life will be scheduled sometime in the Spring or Summer pending developments with Covid-19. Memorial contributions are welcome and may be made to the donor's choice or to an educational scholarship set up in David's name at St. Louis Park High School under its "Dollars for Scholars" program. Donations may be made online at secure.givelively.org/donate/scholarship-america-inc-st-louis-park-mn/…, by texting Litsey to 44-321, or by check made payable to "St. Louis Park Dollars for Scholars" (include "David M. Litsey Memorial Scholarship Fund" in the memo line) and mailing it to SLP DFS, P.O. Box 16403, St. Louis Park, MN 55416.
Published on January 9, 2022
https://www.startribune.com/obituaries/detail/0000413468/?fullname=david-merle-litsey